Jesus, Simon of Cyrene is helping You carry the cross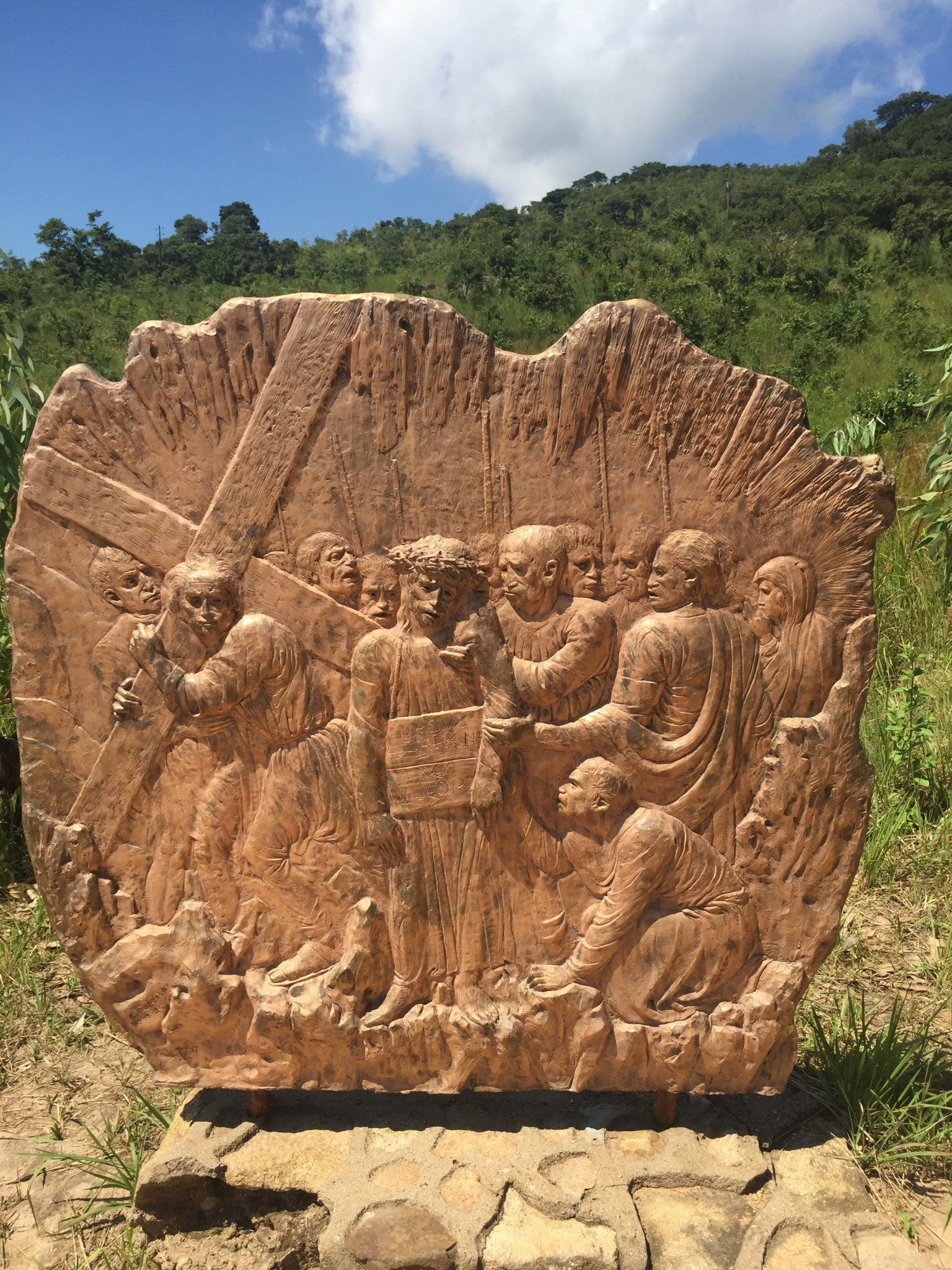 Jesus is at the center of the scene. His strength is gone. He seems to be drawn to the ground by His own weight. He looks as if His muscles no longer exist. His head is tilted to His left with fatigue and it is held up compassionately by one of the men from the crowd. The Cyrenian powerfully proceeds forward, but also shows his compassion towards the Nazarene. This compassion is that of those who still believe in Jesus. The other part of humanity is visually absent, but is present and is symbolized by the falling shoulder, deformed by the cross and the ugly mocking sign hanging around Jesus' neck. In the background we see the isolated pain of Mary.
---
Reflections and Prayer
From the Bible: He summoned the crowd with his disciples and said to them: "If a man wishes to come after me, he must deny his very self, take up his cross, and follow in my steps.
(Mk 8:34)
"Finally, when they had finished making a fool of him, they stripped him of the cloak, dressed him in his own clothes, and led him off to crucifixion. On their way out they met a Cyrenian named Simon. This man they pressed into service to carry the cross.
(Mt 27: 31-32)
We adore you, O Christ, and we praise you.
Because by your holy cross you have redeemed the world.
Jesus, the meeting with your Mother strengthened you and comforted you internally. That is why they gave you Simon of Cyrene, to carry the cross for you. He was strong, and he carried the cross willingly. His help is of great benefit for your journey of obedience to your Father.
You assured your disciples that they would not be asked more than their own strength. But even when our strength leaves us, we always find someone, like Simon of Cyrene, who will help us to continue our journey. Thank you, Jesus, that from the example of Simon of Cyrene, I can learn that even my role is important. Even my spiritual strength, my intellectual and physical strength, could be a guarantee for someone, that he won't be asked more than his own strength. That is why, with sincerity, I will now put everything that I have and all I am at the disposal of those who suffer.
---
O Jesus, accept me! May my hands extend and help those who are no longer able to work with their own hands. May my eyes give light to those who cannot see. May my feet give help to those who are not able walk. May my word give voice to the dump.
Here I am; take me into your service.
I am sorry that many times I have not realized where I could be useful, or that I have not been ready to help, because I was seduced by my own selfishness. Forgive me, Father. Often, many people have been left behind, or have fallen into temptation, because of my idleness in putting to good use my gifts.
---
Message: Dear children! God wants stop make you holy. Therefore, through me Let Holy Mass be your very life. Understand that the Church is God's palace, the place in which I gather you and want to show you the way to God. Come and pray! Neither look to others nor slander them, but rather let your life be a testimony on the way of holiness. Churches deserve respect and are set apart as holy because God, who became man, dwells in them day and night. Therefore, little children, believe and pray that your father increase your, and ask for whatever you need. I am with you and I rejoice because of your conversation and I am protecting you with my motherly mantle. Thank you for having responded to my call!
(25April 1988)
We thank you, O Mary, and we bless you.
Because by your sufferings you helped to redeem the world.
O Mary, make it so that, even when I have to be apart from those who suffer, my existence will be a sign that I love them and that I do not want to abandon them.
I pray especially, O Mary, for those who care for the gravely ill and who must look helplessly on, like you at this moment, at the pain and anguish of their loved ones.
Let love grow in everyone and make them available to serve others.
Have mercy on us, O Lord! Have mercy on us!
O Mary, Mother of Sorrows, Intercede for us.
Bruised, derided, cursed, defiled,
She beheld her tender Child, All with bloody scourges rent.
In my heart each wound renew, Holy Mother, pierce me through, Of my Saviour crucified.