Jesus, you fall the second time under the cross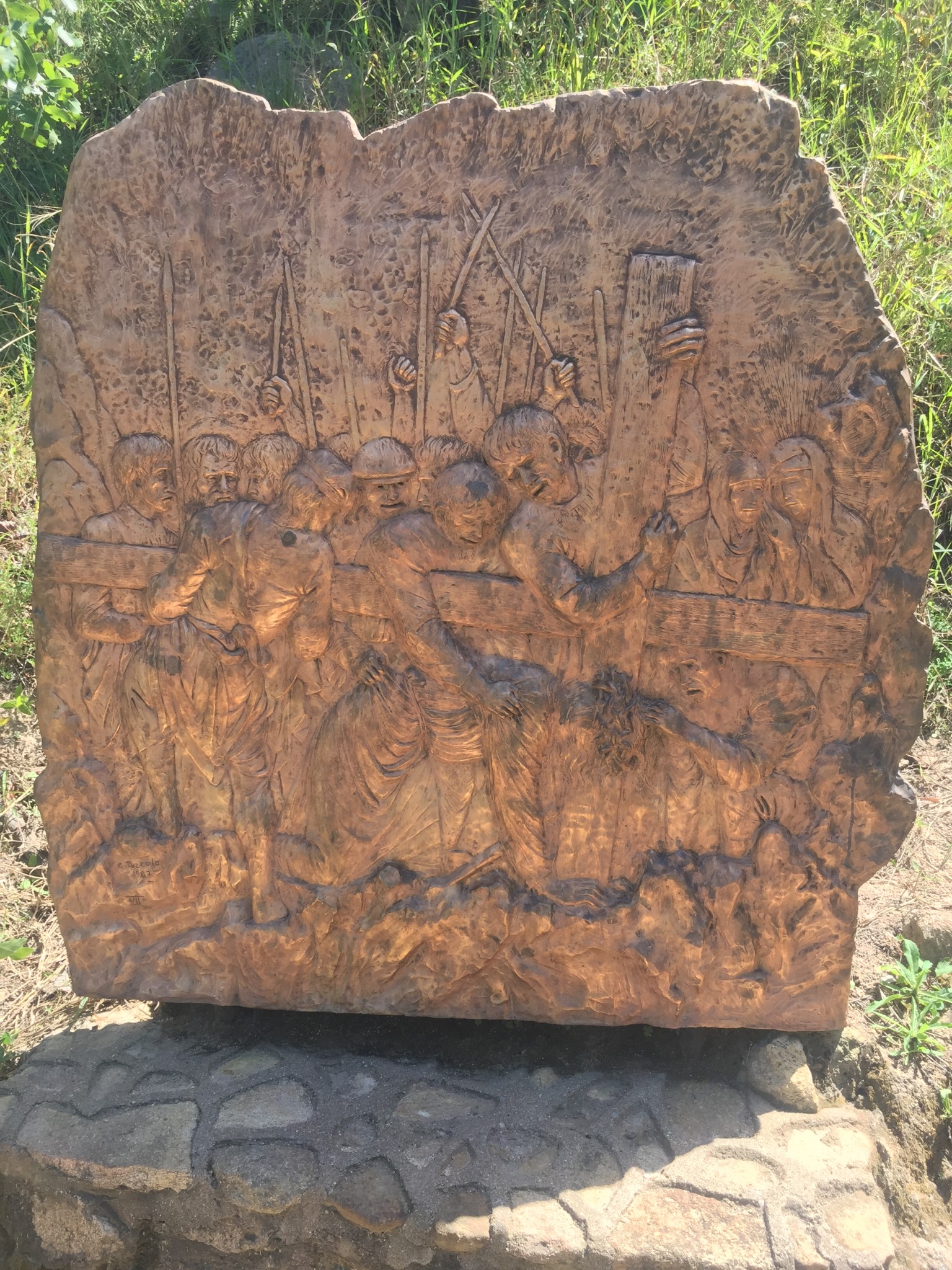 An increased violence prevails in this dramatic scene. Jesus is seen again with His knees on the ground, His hands and his blood are in the dust. It seems, He wants to embrace the rocks on the ground. Again the crowd that followed is over Him shouting and threatening. Someone holds the cross. Others band down to pull His hair. Others show fists and sticks. Some observe in silence. Hands frantically try to lift Him to put Him under the weight of the cross. Again, on the right, we see Mary's face in anguish.
---
Reflections and Prayer
From the Bible: But Zion said, "The Lord has forsaken me; my Lord has forgotten me." Cana mother forget her infant, be without tenderness for the child of her womb? Even should she forget, I will never forget you. Kings shall be your foster fathers, their princesses your nurses; bowing to the ground, they shall worship you and lick the dust at your feet. Then you shall know that I am the Lord, and those who hope in me shall never be disappointed.
(Is 49:14,15,23)
We adore you, O Christ, and we praise you.
Because by your holy cross you have redeemed he world.

Jesus, you fall again, drained of your strength. You are weighed down by the cross and cannot form a bridge. You are closer to the ground, embracing the rocks which are softer than the hearts of the people who are torturing you, hitting you, pulling your hair, and violently pushing you beneath the cross. Your Mother is in deep anguish over your pain.
Jesus, I am ashamed to say this to you: thank you for all the suffering you accepted for us. It is becoming too much. The people's hatred is still not satisfied. Thank you even more for getting up and showing us that you are prepared to love until the very end.
Jesus, I pray for all those who are disappointed with themselves, who fell into sin again, who were overwhelmed by hatred, who surrendered to blasphemy, who were misled by selfishness, although they had made a commitment to
Correct themselves. I also pray for those who have tried to
get out of drugs and other sinful slavery, and then fell again, instead of walking straight forward. They found themselves beneath their crosses and are crawling on the floor, humiliated by sin and therefore rejected by people.
Jesus, grant that none of your brothers and sisters who have fallen yet again, remain crushed and broken. Help them to get up, Lord. You understand them, even when others do not, and you accept them when others are rejecting them. You will not pull their hair, like yours was pulled at that fall.
You will find ways and the time to help them, without inflicting new wounds, reopening old ones.
Thank you, Jesus, because you do this through the intercession of your Mother, who is troubled in heart from pain.
---
Message: Dear Children! I am calling you to love your neighbor. Love those from whom evil comes to you. In that way you, with love, will be able to discern the intention of hearts. Pray H and love, dear children! With love you E9 can do even that which you think is impossible. Thank you for having responded to my call (7 November 1985)
We thank you, O Mary, and we bless you.
Because by your sufferings you helped to redeem the world.
O Mary, thank you that, through your suffering, you have learned to obey like your Son. You want to be Mother and Intercessor of all. Thank you, because it has never been known that you refused help to anyone who turned to you for help. Amen.
Have mercy on us, O Lord! Have mercy on us!
0 Mary, Mother of Sorrows, Intercede for us.
0 sweet Mother! Fount of love,
Touch my spirit from above, Make my heart with yours accord.
Holy Mother, pierce me through, In my heart each wound renew, Of my Saviour crucified.