Jesus, your friends put you in the tomb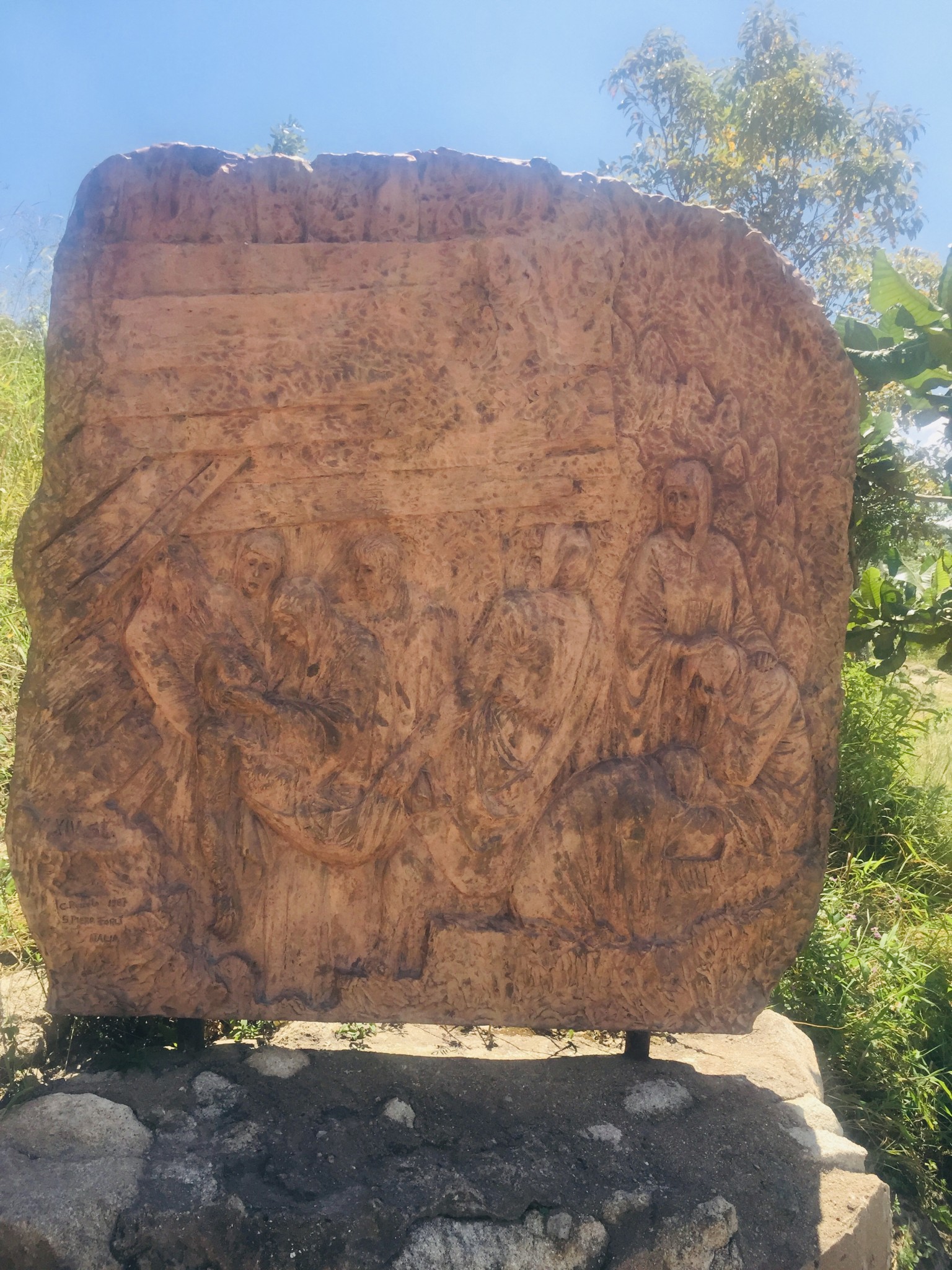 The cold and heavy structure of the tomb dominates the scene of the burial. Mary seems to light up the face of Jesus with a last of the enormous sacrifice that is just about to be competed.in that only a mother can express. All is wrapped in a climate of painful sorrows. The disciples cry at the entrance of the tomb while John observe the scene.
---
Reflections and Prayer
From the Bible: A grave was assigned him among the wicked and a burial place with evildoers, though he had done pno wrong nor spoken any falsehood. But the lord was pleased to crush Him in infirmity. If he gives his life as an offering for sin , he shall see his descendants in a long life, and the will of the lord shall be accomplished through him. Because of his affliction he shall see the light in fullness of days; through his suffering, my servant shall justify many, and their guilt he shall bear. Therefore, I will give him his portion among the great, and he shall divide the spoils with the mighty. Because he surrendered himself to death and was counted among the wicked; and he shall take away the sins of many, and win pardon for their offenses.
(Is 53:9-12)
We adore you, O Christ, and we praise you.
Because by your holy cross you have redeemed the world.
Jesus, they behaved inhumanely towards you. The last act that of the burial, is finally a humane and friendly act. Those who carry hate in their hearts and those who persecute have gone. Around you we find Mary, your Mother, a few disciples and your beloved apostle John with a few friends. Your Mother still has the strength to caress you and show you her great reverence.
O Jesus, with an act of love and of gratitude you are put in the tomb. The pain and emptiness are evident, but the hate h|s disappeared. Love is stronger, all is bearable.
Jesus, O my Lord, I pray to you now for all those who will die today in inhumane conditions, abandoned and rejected, alone; for those who will die on the roads, because of accidents or in places of work, unexpectedly and suddenly. I pray particularly for those who kill and for their victims. Only you can light their faces, so that in them the last act will be the victory of love. I pray for the mothers, the fathers, and the doctors who kill innocent children. I pray to you also for those innocent victims who. Even today, undergo this sad end. Welcome them into your kingdom. They will have neither burial nor memory, but your love will mark them forever in the book of life.
---
Message: Dear children! Today I invite you all to prayer. Without prayer, dear children, you are not able to experience Go, nor me, nor the graces that I am giving you always pray at the beginning children, I desire to guide you, day by day, more and more in prayer. If you do not grow, it will be because you do not desire it. It invite you, dear children, to make sure that prayer always takes place. Thank you for having responded to my call!
We thank you, O Mary, and we bless you.
Because by your sufferings you helped o redeem the world.
O Mary, Mother of Jesus, in accompanying your Son, you found yourself in front of the tomb. I believe that the light of your face is illuminating the darkness of the tomb itself. Be close to those who today, in whatever way and whatever place, lift up their spirit to God. May your love illuminate the last moments of their lives, taking pain from their suffering. Your love will be an invitation to forgiveness and to reconciliation for those who treacherously and desperately kill others or take their own lives.
Have mercy on us, 0 Lord!
Have mercy on us!
0 Mary, Mother of Sorrows, Intercede for us.
While my body here decays, May my soul your goodness praise, Safe in heaven eternally. Amen.
Holy Mother, pierce me through,
In my heart each wound renew, Of my Saviour crucified.