On a recent visit to Malawi, I was tasked with ordering 3000 little cloth bags from the Beehive Tailors in ChilomoniTownship. The order was from Mobal who wanted to gift the bags to their customers as a thank you.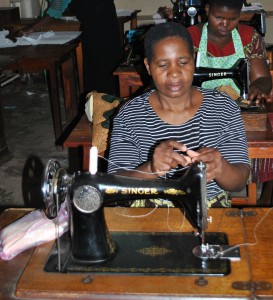 Since 2007 Krizevac Project has collected over 2000 sewing machines which were collecting dust in attics throughout the UK. Every machine has been sent to Beehive tailoring school where experienced trainers help locals from Chilomoni to qualify on a two year tailoring and design course. Once qualified, women are able to take their machine to start their own businesses.
It wasn't the first order for the traditional Malawian cloth bags. Vince Owen our Managing Director organised the first batch of bags in July 2013 and back then, he videoed the tailors so Mobal customers could see their bag being made (see this link).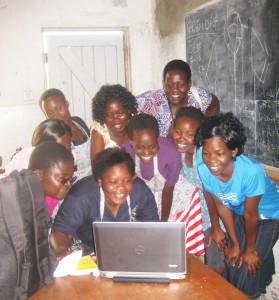 I was determined, on my follow up visit, to show the video online to the women who were featured. Bearing in mind many of them have never even seen a photo of themselves, let alone a video which is on the internet for the whole world to see, I was excited to see their reactions. They didn't let me down! On a hot sunny afternoon, I took my laptop and a mi-fi dongle loaded up with data credit to the tailoring workshops and staged a showing of the Chilomoni Tailors. Initially they were all a little quiet, then after a few seconds the giggling began, by the end of the video they were whooping, laughing and teasing each other about their "performance" in the film. It was great to see their delight and I couldn't help taking a photo of them watching themselves… next time I go back, maybe I'll take a photo of the tailors looking at this blog about them looking at themselves…. you get the gist!
The order for the 3000 bags was completed and each woman was paid for her share. This is vital income which will really benefit their families. Times are hard in Malawi right now, with rising costs and few jobs. By enabling businesses like Mobal to trade with Beehive, we know we're really reaching the poorest of the poor. But it's not "charity" in its traditional sense; it's a fair transaction between a supplier and a customer. No wonder the tailors were happy, getting paid for a job well done, its all anyone wants isn't it?