The inaugural Way of the Cross trail race was held on 12 August 2017 at the Beehive Centre for Social Enterprise as part of the annual open day celebrations.
The race started at the Beehive Campus in the Chilomoni suburb of Blantyre, Malawi and followed the iconic trail up the Michiru Mountain to the Cross which sits on the skyline ridge. This trail attracts Catholics and all those seeking a meditative experience who make the journey to the Cross passing the 12 Stations of the Cross.
The idea was to offer Malawians an opportunity to complete in a running event as well as to promote the great work being undertaken at the Beehive Centre for Social Enterprise.
A further ambition was to promote the environmental care of the mountain which has seen years of indiscriminate tree felling. Race entry was mk100 which purchased a tree seedling to be planted on the mountainside as part of the forestry recovery programme.
The race route is a challenging 6km rocky trail that initially traverses the upper reaches of Chilomoni township before climbing steeply onto the switchback track to the summit ridge 300m above Chilomoni before plunging back down to the finish.
70 excited runners of all abilities assembled for this first race. Miss Blantyre started the race with the ladies and Juniors starting 3 minutes before the men. The race with a first prize of a bicycle was hotly contested with an initial group of 5 runners. The winner Manson Bambara took 27.5 minutes. The Madala category (over 40 years) was won by Tim, Mr Woza Woza, a spicy sauce maker, The ladies by Thewonge Geatha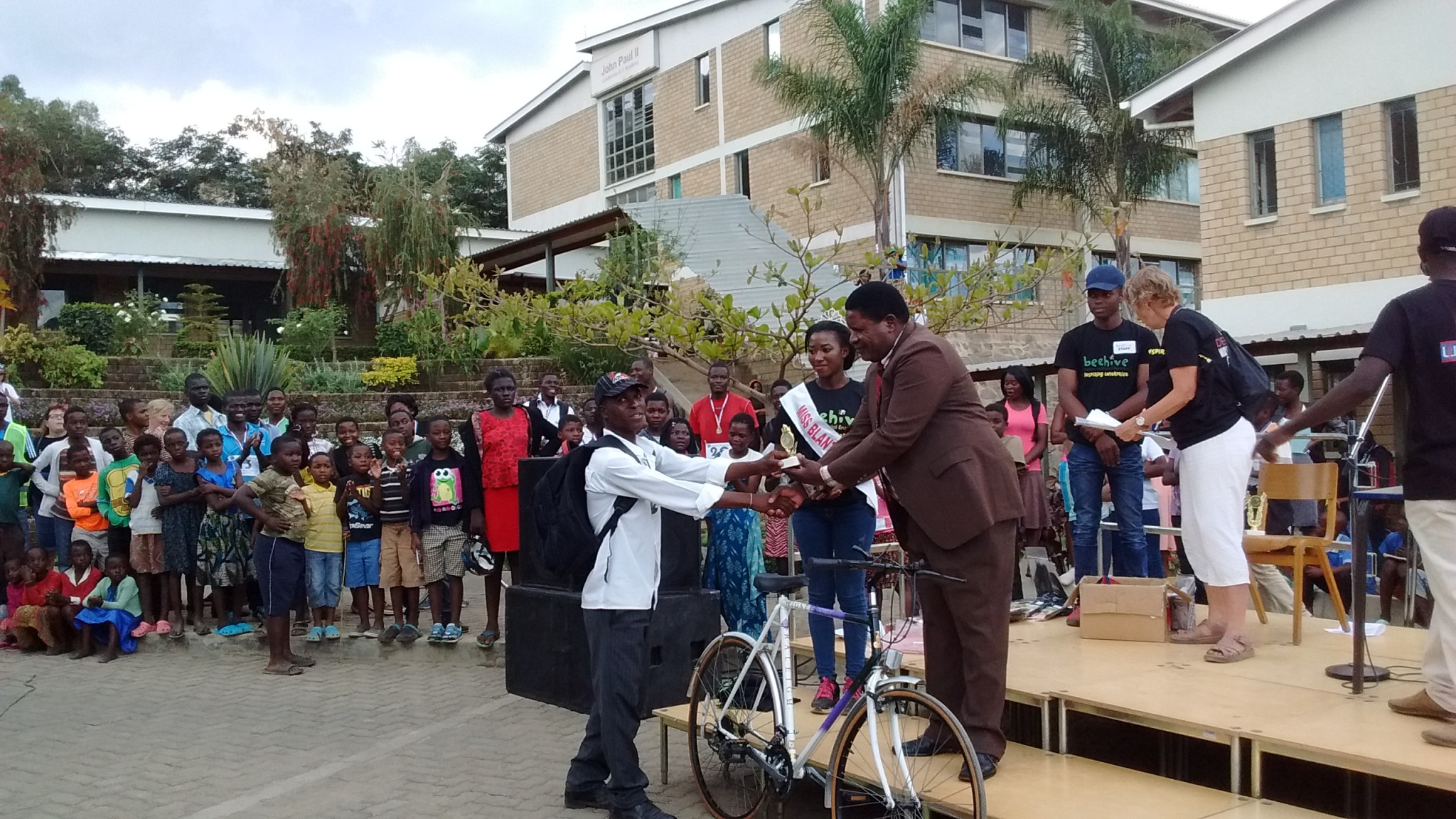 The Deputy Mayor for Blantyre Mr Joseph Makwinja presented the prizes kindly donated by local building merchants Deekay Suppliers, Bella hair products, Eversharp pens and Exide batteries.
This race proved the enthusiasm that Malawians have to participate in competitive sport and running in particular. Beehive hope to ensure that this event becomes an annual event and that racing the "Way of the Cross" becomes a must do event for local residents along with visitors to Malawi.
Blog by Graham Denny volunteer Enterprise Manager